Health Advice: NHS Inform
NHS Inform is Scotland's national health information service.
It aims to provide people in Scotland with accurate and relevant information to help them make informed decisions about their own health and the health of the people they care for.
If you have questions about your health, visit www.nhsinform.scot or call 0800 22 44 88.
They can provide general health information, including advice on tests, treatments, illnesses, injuries, healthy living, support and health rights.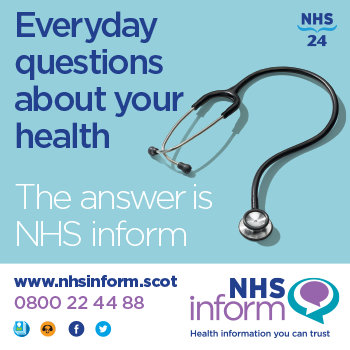 Information Point
Visit our Patient Participation Group Health Information Point where our trained volunteer advisers can provide leaflets and information on request.
If you prefer, feel free to browse our leaflet racks or request information to be sent to you by completing an "Information Request Card" and passing it to reception.
Find out more about the Information Point.