We run a wide range of clinics at the practice, most of which are led by our practice nurses. We are keen to promote health education and preventive medicine. Our clinics and related services include:
Antenatal Clinic
The government is now encouraging your community midwife to be the first point of contact for all pregnant women. This means that women should book their first ante-natal appointment with our midwives, as soon as they have a confirmed pregnancy test (home test kits are sufficient). For local services contact your Community Midwife on 01307 475225.
During the first appointment the midwife will discuss medical history and plan ante-natal care accordingly. Patients can expect to have their first scan between around 12 to 14 weeks.
There is an antenatal clinic run by the midwives at Whitehills Community Centre. Appointments can be made either at reception or by telephoning 01307 415225.
Cardiovascular Clinic
Review appointments will be organised by your case management team for patients with a history of hypertension, stroke, atrial fibrillation and peripheral arterial disease. For further help and advice on heart disease and stroke visit the information point.
Cervical Cytology (Smear)
We recommend that all women aged 25 to 49 years that are or have been sexually active should have regular smears carried out every 3 years, and those women aged between 50 to 64 years every 5 years.
The Practice Nurse usually performs these. You will normally be sent a reminder when your smear is due but if you have any doubt, please ask.
Child Health Surveillance
Regular assessments by your doctor and health visitor. Child Health Surveillance assessments are held by appointment.
Child Immunisation Clinic
Child Immunisation Clinics are run during the week in conjunction with NHS Tayside. You will be informed of their 6 weekly immunisations and subsequent appointments by SIRS (Scottish Immunisation and Recall Service) by post.
For more information on children's immunisations visit the NHS Inform's When to immunise or contact the Immunisation Team on 01382 432111 or 01307 475267.
Coronary Heart Disease Clinic
Review appointments will be organised by your Case management for the annual review of patients with a history of Coronary Heart Disease.
Diabetic Clinic
Review appointments will be organised by your case management team to discuss the management of your diabetes, or if you wish more information please visit Tayside Diabetes Managed Clinical Network.
Family Planning
Your case management team will be happy to discuss all forms of contraception with you. For further information on sexual health and local services visit SH & BBV Tayside.
The Sexual Health Clinic in Arbroath or Ninewells can fit the IUD (coil) you can contact the department on 01382 425542.
Our GP, Dr Thomas, is trained in Nexplanon implant insertion.
Our Health Visitors and some of our Practice Nurses can offer advice on post–coital contraception – the Morning After Pill.
Emergency contraception can be provided by your local pharmacy. Find out more about emergency contraception on NHS Inform.
Minor Illness Clinic
The nurse prescribers and provide many hours of minor illness consultations over a week. They are specially trained in the management of common minor illnesses and can see and treat a variety of problems, including:
back pain
boils/abscesses
cellulitis
conjunctivitis
cold/flu symptoms
coughs
cystitis
diarrhoea
earache
hay fever
minor cuts and bumps
head injuries
nose bleeds
rashes
shingles
sore throats
sinusitis
minor burns and scalds
urinary symptoms
emergency contraception
Minor Surgery Clinic
Minor Surgery Clinic attendance is by arrangement with your own doctor. Dr Thomas holds regular minor surgery sessions on Thursday mornings here in the practice.
Physiotherapy Clinic
The practice offers patients who are experiencing joint problems access to a fast access Physiotherapy Clinic.
The fast access Physiotherapy Service is held every weekday afternoon from 12.45pm to 3.15pm (except Thursdays 1.15pm to 3.15pm). Patients should book a 20 minute appointment slot for this clinic as numbers will be restricted for each clinic.
The following complaints are suitable to be dealt within this service:
Back pain/problem
Neck pain/problem
Shoulder pain/problem
Elbow pain/problem
Wrist or hand pain/problem
Hip pain/problem
Knee pain/problem
Ankle pain/problem
Foot pain/problem
Any other musculoskeletal problem (Problem with joints, muscles, ligaments and tendons)
Respiratory Clinic
Respiratory Clinic review appointments will be organised by your case management team to discuss the management of your asthma or COPD. It would be helpful if you complete the asthma annual review questionnaire before your appointment. For more help and support find out about the British Lung Foundation Helpline.
Stop Smoking Support
Free support to help you stop smoking is available from the local pharmacies or by visiting NHS Inform's stopping smoking.
Travel Vaccinations
Travel vaccinations are by appointment. Find our more about travel advice and vaccinations, including when to make an appointment and what vaccinations you may require for your destination(s).
Wart Clinic
Warts and verrucas can be treated by your local pharmacy under the NHS Minor Ailment Service.
If this is unsuccessful your case management team are happy to assess you for the Wart Clinic.
Do you have a chronic condition?
Patient forums and support services provide the opportunity to access support, information about self-management, and meet with like minded people in the local community.
Read more about patient forums and support.
Health Advice: NHS Inform
NHS Inform is Scotland's national health information service.
It aims to provide people in Scotland with accurate and relevant information to help them make informed decisions about their own health and the health of the people they care for.
If you have questions about your health, visit www.nhsinform.scot or call 0800 22 44 88.
They can provide general health information, including advice on tests, treatments, illnesses, injuries, healthy living, support and health rights.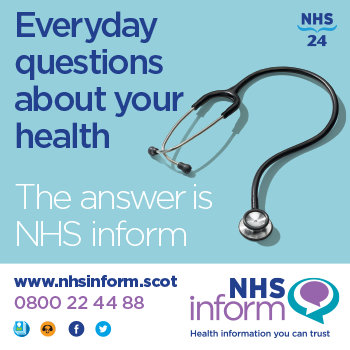 Don't forget the Surgery Pod!
The Surgery Pod allows you to perform checks of your blood pressure, height and weight at your own convenience, any time during surgery opening hours. No appointment is required.