Index
The index of patient information leaflets and forms is arranged alphabetically by title and subject. Some are published by by Academy Medical Centre and attached personnel; others are from external bodies.
A
access to medical records
address details, updates to
asthma annual review questionnaire
aural care clinic
B
bereavement - see
'good life, good death, good grief' website
C
carers self-referral form
online version
print version
clinical record update form
comments form
contact details, updates to
complaints handling procedure leaflet
contact details update form
D
death, dying and bereavement - see
'good life, good death, good grief' website
E
ear wax
aural care clinic leaflet
self-treatment of ear wax
enablement and response team leaflet
F
falls: how to prevent them and what to do if you need help
feedback form
flying leaflet, fear of
G
grief - see
'good life, good death, good grief' website
h
hearing assessment self referral
(see also
ear wax
)
K
Key Information Summary (KIS) consent form
M
medical records, accessing
minor ailment service leaflet
N
newsletter sign-up
notes, obtaining copies of
O
online patient services registration form
open access x-ray
organ donor registration form
P
patient participation group sign up form
patient services registration form
personal details, updates to
photocopies of notes form
physical activity questionnaire
podiatry self-referral form
power of attorney
a guide to power of attorney in Scotland
what is power of attorney?
see also
'my power of attorney' website
private referral form
R
record update form
referral to private providers form
repeat prescription order form - see
online patient services
S
self-referral
carers form:
online version
or
print version
hearing assessment
(see also
ear wax
)
podiatry form
sickness self certification form (SSP form)
statutory sick pay (SSP) form
T
third party consent form
travel questionnaire form
X
x-ray, open access
Health Advice: NHS Inform
NHS Inform is Scotland's national health information service.
It aims to provide people in Scotland with accurate and relevant information to help them make informed decisions about their own health and the health of the people they care for.
If you have questions about your health, visit www.nhsinform.scot or call 0800 22 44 88.
They can provide general health information, including advice on tests, treatments, illnesses, injuries, healthy living, support and health rights.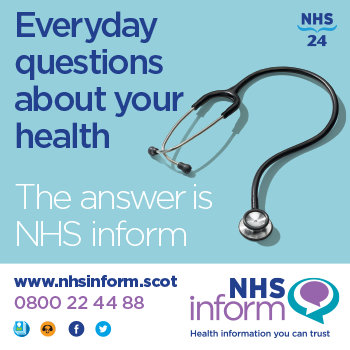 Information Point
Visit our Patient Participation Group Health Information Point where our trained volunteer advisers can provide leaflets and information on request.
If you prefer, feel free to browse our leaflet racks or request information to be sent to you by completing an "Information Request Card" and passing it to reception.
Find out more about the Information Point.