WE ARE ACADEMY MEDICAL CENTRE
One of the largest practices in Tayside, Academy Medical Centre has approximately 9,400 patients in and around Forfar and rural Angus. We welcome new patients to our list.
As well as appointments with a doctor or nurse, the practice offers a wide range of services to patients including access to a social prescriber, mental health wellbeing nurse and in-house physiotherapy.
Chronic disease management is undertaken in our clinics for diabetic, coronary heart disease, hypertension, chronic obstructive pulmonary disease ad asthmatic patients.
A full range of health promotion is available including cervical cytology, full range of contraceptive services and travel advice. Pulmonary rehabilitation classes are run by our respiratory liaison nurse in the surgery and we offer a Refer 2 Exercise programme in conjunction with the local Community Campus.
All our medical records are now in electronic form and these are updated on a regular basis.
Our premises
We moved to our bright and spacious purpose-built premises in 2004. The accommodation consists of 18 consulting rooms. The first floor houses community staff, secretarial staff and other staff attached to the practice.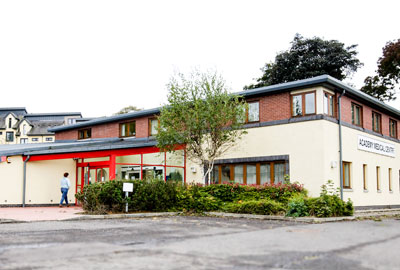 Self Service
We have a room for patient to use our Surgery Pod should they wish to take their basic measurements (BP, height, weight, etc) prior to their appointment with GP, Nurse or HCA.
When you arrive for you appointment you can use our patient operated self check-in system located outside the waiting room.
The surgery can also provide you with a text message reminder service.
New Patients
We welcome new patients in our practice area. Find out more about new patient registration.
Opening Hours
The practice is open from 8am-6pm, Monday to Friday.
We participate in the public holiday closure timetable as agreed by NHS Tayside for General Practice.
The Waiting Area
Working in partnership
To get the most from your appointment it's important you create a good partnership with your doctor or healthcare professional. Find out more about how you can work in partnership.
Inside the Waiting Area